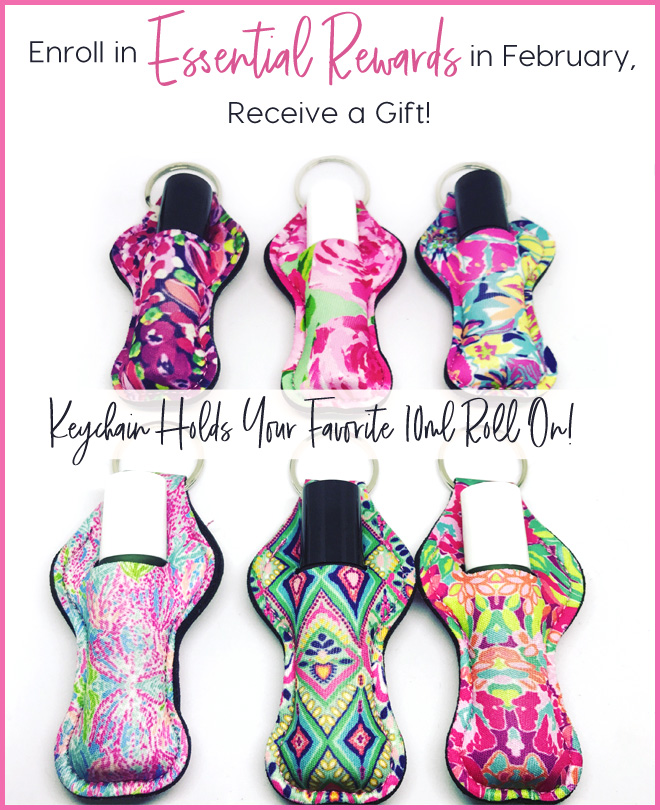 Enroll in Essential Rewards in February, and receive a FREE keychain that holds a 10ml roller bottle from me! (roller bottle not included 😉)
If you are already enrolled in Essential Rewards and are signed up with me personally, you are ALSO eligible for the free gift!
How to receive your free gift:
Enroll in Essential Rewards.  Watch this video if you need help enrolling!  If you're setting up ER for the first time, make sure your order date is set to February (not March) to qualify for the free gift.  If you have any trouble with this, you can call Young Living at 1-800-371-3515 or Live Chat with them!
Set up PV Assistant. Because your Essential Rewards benefits get better with time based upon your 'months of consecutive ordering', you don't want your orders to drop below 50PV if something goes out of stock at the last moment, because you'd have to start all over at Month #1 for your loyalty gifts and % back earned!  Setting up PV Assistant is like 'insurance' that your order does not drop below the required 50pv/month.  At the very minimum, set your PV Assistant to 50PV (the minimum requirement for Essential Rewards), or you may choose to set it to one of the monthly promotion levels… remember that at 100PV you ALWAYS get a free oil when you're on ER!  I put items in my PV Assistant that I can always use, like Lavender, Peppermint, and Thieves.  That way, if something goes out of stock on my main ER order, it will pull from the top of my PV Assistant list.  Watch this video for information on setting up PV Assistant or follow the steps below.

Fill out the Google Form. Once you've enrolled in ER and set up PV Assistant, fill out this Google Form so I know where to send your gift!  We will begin sending gifts in March.
Easy Peasy!!
About Essential Rewards
If you're still considering Essential Rewards, here's what you need to know:
It's the BEST way to get your Young Living products.  If you're not enrolled in ER, you're quite literally leaving money on the table.
It is Young Living's optional, free monthly autoship program.  The minimum each month is 50pv.
If you spend 100pv or more, you ALSO receive FREE promotional oils and products for the month in addition to earning a percentage back on your order.  Some promotional items are ONLY available on Essential Rewards orders.
During months 1-3 on Essential Rewards, you will earn 10% back in ER points to spend like cash.  Months 4-24 you will earn 20% back, and after 2 years you will earn 25% back!
You will receive a free loyalty gift at 3, 6, 9, and 12 months.
You will have access to kits below wholesale that are only available on ER orders.
You will have the option for discounted shipping.
Here is a fantastic, short video explaining the benefits!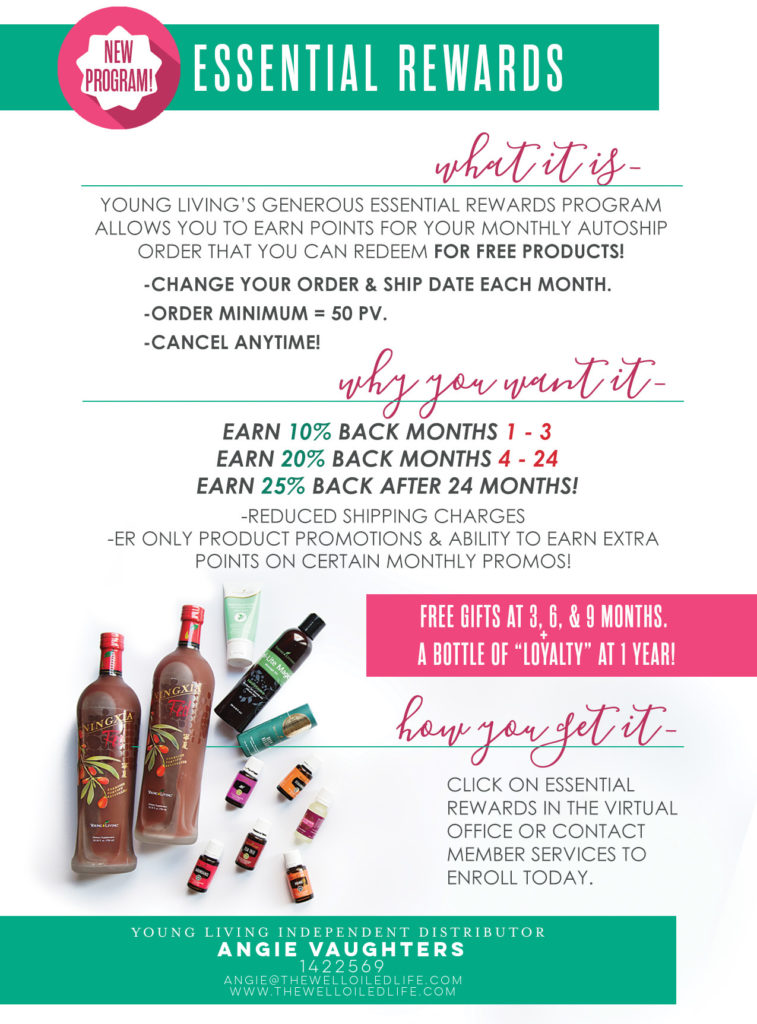 Please contact me if you have additional questions!