Oh I just love free stuff… especially when it's stuff that I get to PICK OUT!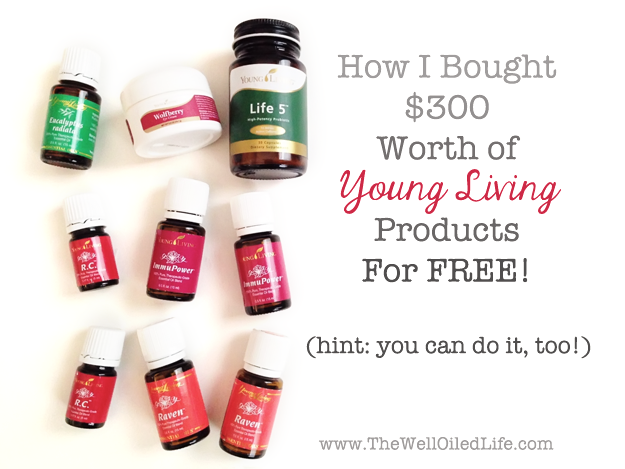 Are you wondering how I was able to pick out $300 in products this last month and get it all FOR FREE??  Two words: Essential Rewards.
Young Living Essential Rewards Program
Young Living has a phenomenal rewards program for loyal members called Essential Rewards.  You can read all about it here.
In a nutshell, you earn credits for free products on all your monthly Essential Rewards (ER) orders!  When you have been in this program over a year, you earn 20% back in Essential Rewards points on your ER orders!! (Months 1-6 you earn 10%, months 7-12 you earn 15%, months 13+ you earn 20%)
This means that for every $100 I spend, I am currently earning $20 back.  In addition, some of the monthly promotions include ADDITIONAL rewards points, so some months, I am earning up to 30% back in ER points!
Cash 'em In!
ER points can then be used just like cash to buy products (a few exclusions apply).  I love having a stash of ER points, especially if something I need is out of stock.  As soon as it comes back in, I can immediately purchase it with my points instead of waiting to add it to my monthly Essential Rewards order.  You only need to pay for shipping when you spend your points!  Also, you can cash in your points from your new Virtual Office, which is so nice.
You Can Do It, Too!
To start earning free product credits, you simply need to have a wholesale account and sign up for Young Living's Essential Rewards program.  I have earned so much free product this way (well over the $300 I just redeemed!), and you can too!!  Don't forget that when you combine your monthly ER order with the monthly promotions, you can earn even more freebies.  :)
*Disclaimer:  The information on this website is based upon my research and personal use of Young Living Essential Oils. I am not a doctor. Statements, products, and techniques mentioned have not been evaluated by the FDA and are not intended to diagnose, treat, cure or prevent any disease.  Read the full disclaimer here.