There is still time for August's Young Living free product promotion!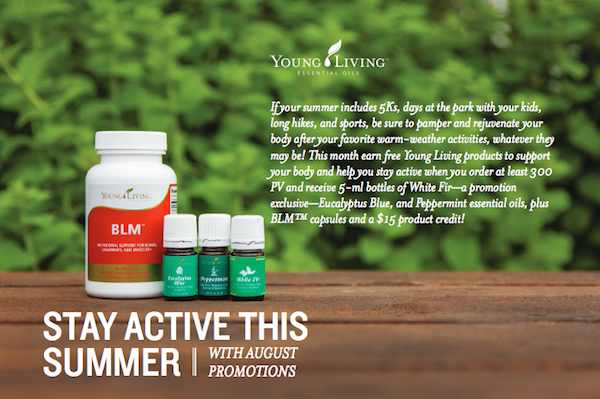 Remember that promotions are open to both RETAIL and WHOLESALE customers who reach the minimum PV levels in a single order!!
300 PV Reward
Retail Value: $128.82
5-ml bottles of White Fir, Eucalyptus Blue, and Peppermint essential oils,
BLM capsules
$15 product credit
250 PV Reward
Retail Value: $62.04
5-ml bottles of White Fir and Eucalyptus Blue
$15 product credit
190 PV Reward
Retail Value: $62.04
5-ml bottles of White Fir and Eucalyptus Blue
White Fir
Not available for purchase as a single oil, White Fir is an August promotion exclusive! This essential oil has long been valued for its woodsy, evergreen aroma, which is perfect for lifting the mind and connecting with spiritual influences.
Eucalyptus Blue
Grown and harvested on Young Living's farm in Ecuador, Eucalyptus Blue has a purifying, balanced scent and is perfect for even those sensitive to other eucalyptus oils. Use in rejuvenating sports massage and spa treatments or diffuse or inhale directly to lift spirits and refresh the mind.
Peppermint
Peppermint is an all-around favorite.  :)  We use it for so many things.
BLM Capsules
A proprietary blend of powerful ingredient—such as MSM, glucosamine sulfate, and manganese citrate—with an essential oil boost, BLM™ supports normal joint, muscle, and ligament health.
$15 Product Credit
Use this just like cash to purchase your favorite Young Living products!!
*Disclaimer:  The information on this website is based upon my research and personal use of Young Living Essential Oils. I am not a doctor. Statements, products, and techniques mentioned have not been evaluated by the FDA and are not intended to diagnose, treat, cure or prevent any disease.  Read the full disclaimer here.