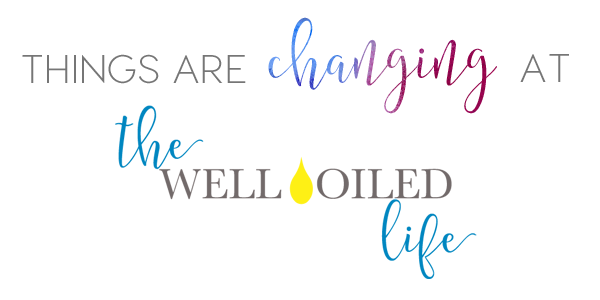 Well hello!!!  This is just a little public service announcement to let you know that in the coming months, I will be switching things up here a bit at The Well-Oiled Life.  :)
If you've followed along for any length of time, you know this has primarily been an outlet for me to share about Young Living essential oils.  However, being that we are SO incredibly limited in what we can say about the oils, I don't feel that the content and information I've been able provide on this platform has been able to serve you well.
Therefore, I will be incorporating MANY more things into this blog that pertain to a healthy lifestyle!!  I think one of my passions in life is showing people they CAN do things they think are difficult.  I also think the concept of healthy, less-toxic living is something that a lot of people struggle with because they think it's HARD.  So I'll be sharing lots of little ideas and tweaks that you can make to your world in order to make it better.  Whether it's feeding your family better, getting harmful chemicals out of your home, elevating your thinking, or making changes in your life that allow you to reach your full potential… it's all possible content for the *new* Well-Oiled Life.  :)
I will still have essential oil content on here from time to time, but there is SO much more I'm always wanting to share with you, and now I have a place to do it.  :)
Thank you so much for reading and following!!  Below is my FB Live video talking a bit more about the changes to come.  I truly hope to serve you better!  :)
*Disclaimer:  The information on this website is based upon my research and personal use of Young Living Essential Oils. I am not a doctor. Statements, products, and techniques mentioned have not been evaluated by the FDA and are not intended to diagnose, treat, cure or prevent any disease.  Read the full disclaimer here.