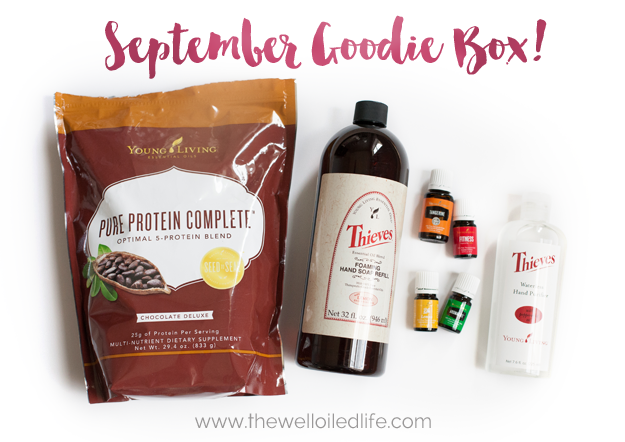 Every month I wait patiently for my goodie box (a.k.a. my Essential Rewards order) to arrive safely on my front porch.  Here is what I unpacked this month!
Pure Protein Complete
This is a brand new product unveiled at Convention!  I ordered this protein powder in chocolate because I thought it sounded good blended with a banana.  You'll see from the picture that I tore into it right away, haha!  I only blended it with some cold water and ice because I was starving.  :)  It was super yummy, and next time I'm adding that banana!  This protein powder contains cow and goat whey, pea protein, egg white protein, and organic hemp seed protein, 25 grams of protein per serving.  I will be using this for either quick breakfasts or afternoon snacks  :)
Thieves Foaming Hand Soap Refill
I totally ran out of this, and my husband was complaining about the soap I had as a stand-in in the kitchen!  He much prefers the Thieves soap.  It arrived, and now everyone's happy again.  :)
Fitness
This is one of the Oola oils… I have committed to a 6 month fitness program recently, so I figured I would try this oil to keep me on track.  My plan is to use it every day before exercising, and I hope the scent reinforces the positive emotions that go along with exercising… instead of dreading it!!  :)
Thieves Waterless Hand Purifier Refill
This is another new product!!  We LOVE the Thieves purifier, but the bottles are so darn small.  I love having this larger one so I can refill my little ones when they run out… and this one is more economical, too.
Tangerine, Lemon, and Aroma Life
These oils were all freebies with my order!!  I forgot to include it in the picture, but I also got the Mineral Essence and an extra 10% back on my order this month.  Super excited to use all my points for some FREE product.
Thanks for visiting, and happy oiling!!!
*Disclaimer:  The information on this website is based upon my research and personal use of Young Living Essential Oils. I am not a doctor. Statements, products, and techniques mentioned have not been evaluated by the FDA and are not intended to diagnose, treat, cure or prevent any disease.  Read the full disclaimer here.