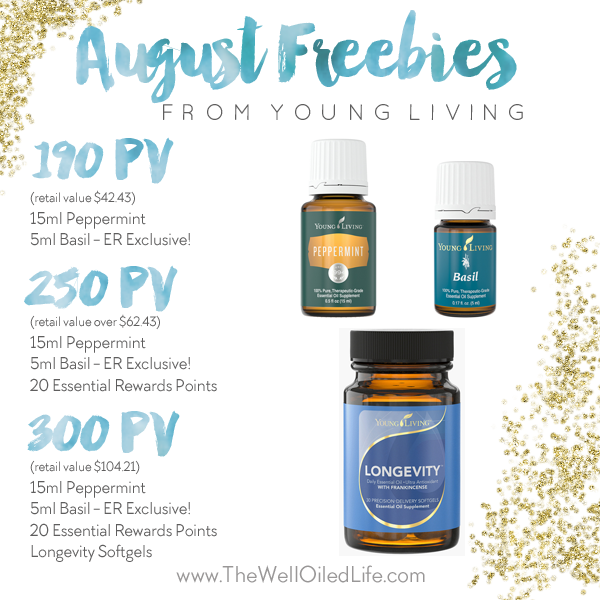 How is it August already?! (insert crying here)  This summer has gone WAY too fast.  The good news is that there is another monthly promotion starting, and this one is GOOD!  In case you don't know, every month Young Living releases a new monthly promotion.  These promotions are open to both RETAIL customers and WHOLESALE members who reach the minimum PV levels in a single order.  When you reach these levels, you earn the free products listed!  Here is the rundown for the August 2015 Young Living Promotion…
300 PV Reward
Retail Value: $104.21

15-ml bottle Peppermint
20 Essential Rewards Points
Longevity Softgels
Bonus 5-ml bottle of Basil on Essential Rewards orders
250 PV Reward
Retail Value: $62.43
15-ml bottle Peppermint
20 Essential Rewards Points
Bonus 5-ml bottle of Basil on Essential Rewards orders
190 PV Reward
Retail Value: $42.43
15-ml bottle Peppermint
Bonus 5-ml bottle of Basil on Essential Rewards orders
Peppermint
Oh Peppermint, how I love thee… let me count the ways… Ok, in all seriousness, Peppermint is an absolute staple in my home.  Peppermint is amazing for digestive support.  It supports gastrointestinal system comfort*, promotes healthy bowel function*, enhances healthy gut function*, maintains efficiency of the digestive tract*, supports normal digestion*, and may support performance during exercise*.  I LOVE this oil, we keep it in the kitchen, upstairs, and in my purse!  I love that this oil is a freebie this month!
Basil
Basil is available for free this month on Essential Rewards orders that qualify for the promotion.  You can substitute Basil essential oil in recipes for dried or fresh basil – think salad dressings, marinades, and classic Italian recipes.  It can also be taken as a dietary supplement to support health and wellness.*  Basil contains the naturally occurring constituents methylchavicol, linalool, and eucalyptol.  Basil is also a key ingredient in Young Living's Aroma Siez, Clarity, and M-Grain blends, as well as being a key part of the Raindrop Technique.
20 Essential Rewards Points
I love when the monthly promotion includes extra Essential Rewards points!  These points can be redeemed like cash on future regular orders.  Note that you must be enrolled in the Essential Rewards program to receive these points.
Just to show you how awesome this is… if your monthly Essential Rewards order is 300PV in August, and you are earning points at the rate of 20%, you will automatically receive 60 ER points from your order… plus this additional 20, so 80 ER Points total!  This is like 80 wholesale dollars you get to spend on FREE product for a future order!!
Longevity Softgels
I heard about Longevity Softgels at a recent conference I was at, and WOW.  These little guys sure do pack an antioxidant punch.  They have been on my wish list ever since!  From Young Living: Longevity blend should be taken daily to strengthen the body's systems to prevent the damaging effects of aging, diet, and the environment.* Enriched with the pure essential oils thyme, orange, and now frankincense, Longevity protects DHA levels, a nutrient that supports brain function and cardiovascular health, promotes healthy cell regeneration, and supports liver and immune function.* Longevity also contains clove oil, nature's strongest antioxidant, for ultra antioxidant support.
These great products are FREE this month with qualifying orders!!  I'm off to put together my monthly shopping cart… until next time.  ;)
*Disclaimer:  The information on this website is based upon my research and personal use of Young Living Essential Oils. I am not a doctor. Statements, products, and techniques mentioned have not been evaluated by the FDA and are not intended to diagnose, treat, cure or prevent any disease.  Read the full disclaimer here.