I am so SO excited to tell you about something that our team has been working on… and now it's READY!  ………..Oil Moxie!!!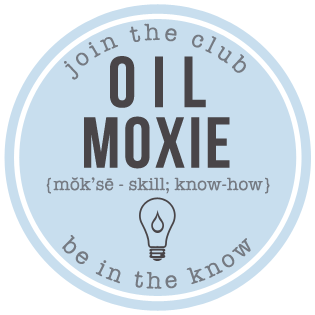 Some Background…
When someone orders Young Living essential oils through me for the first time, one of the most important things to me is that they KNOW HOW TO USE THEIR NEW OILS!
My team and I began to brainstorm the best way we could support those new to Young Living in our groups and make them feel connected.  First, we gave our group a name – Oil Moxie!  As crazy as it sounds, this name actually came to me in a dream!!  I didn't even know what the word 'moxie' meant… I had to look it up!  I chuckled to myself that next morning when I saw what one of the definitions is: "skill; know-how".  How perfect?!  We want our group to have oil skillz!!!  ;)  And oil know-how!
Oil Moxie
So what is Oil Moxie??  Oil Moxie is a free club, created by seven savvy Young Living essential oil users and bloggers, available to those who join anywhere in the Oil Moxie downline (look for the Oil Moxie logo!).  We want to offer people who join our group a connection with other oilers AND a place to get the oil information they need!  We decided to create the ultimate oil resource for our group, our Oil Moxie website!  Here you will find everything you need to get started on your oil journey, all in one place.  We want you to be confident using your oils… we want you to BE IN THE KNOW!  :)
Once you join Young Living with an existing Oil Moxie member, you will be invited to our private website, where you will find videos, printouts, usage and safety information, answers to common questions, and MUCH more!  If you ever become interested in sharing the oils, we have a TON of information on the business side of things as well.  :)
How Do You Join?
If you're not already working with someone, I'd LOVE to have you join our Oil Moxie group!!  Enroll as a Young Living wholesale member with me (or another Oil Moxie member), and you'll automatically be part of the club!!
*Disclaimer:  The information on this website is based upon my research and personal use of Young Living Essential Oils. I am not a doctor. Statements, products, and techniques mentioned have not been evaluated by the FDA and are not intended to diagnose, treat, cure or prevent any disease.  Read the full disclaimer here.