Oh I just LOVE when my monthly Essential Rewards order arrives via FedEx each month!  It's seriously like Christmas every month.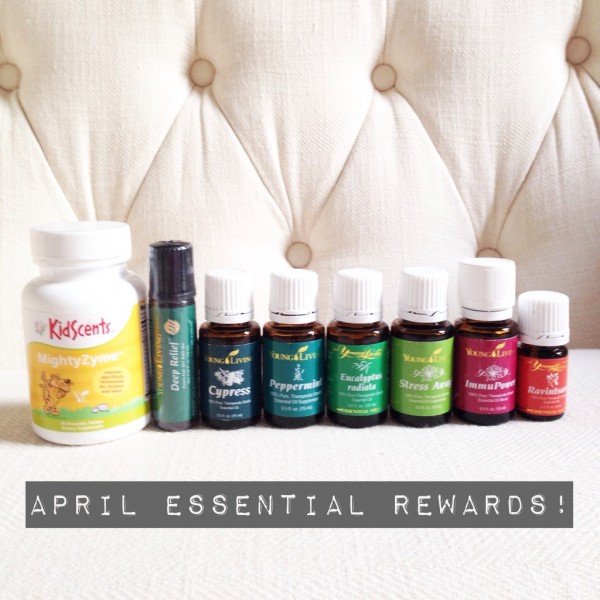 This month was pretty much replenishing some things I was running low on… here is why we use them…
KidScents MightyZyme
These are digestive enzymes for kids.  I've noticed positive changes in my kids' health, so we keep on using them!  I give them each one a day.
Deep Relief
This was one of the free oils this month from the April Monthly Promotion!  I've never used Deep Relief before… but I'm loving it!!
Cypress
I use this oil with my daughter frequently and just wanted to make sure I was stocked up!
Peppermint
This is just one we never NEVER never want to run out of.  Never.  I think you get the picture.  :)
Eucalyptus Radiata
We love Eucalyptus Radiata.  It is an important ingredient in Breathe Again™ Roll-On, Thieves®, and R.C.™ essential oil blends, Inner Defense™, and Ortho Ease® Massage Oil.
Stress Away
Again, one I NEVER want to run out of.  Stress Away relaxes me before bed so I can sleep well.  I love it… like I might start to panic if I ran out… which would just make me need more Stress Away… better to keep it on hand.  :)
ImmuPower
Okay, I see I am developing a pattern here… this one I REALLY NEVER want to run out of.  ImmuPower is one of my 2-Must have oils.  This one is a stinky but goodie.  :)
Ravintsara
The other free oil for the month of April!!  I've not tried this oil as a single yet, although it is part of the Raven blend.  I love getting to try something new!
More Info…
Young Living's Essential Rewards program is awesome… it is YL's optional monthly autoship program where you earn FREE product credits on your orders and get cheaper shipping.  I've earned LOTS of free product this way.  And when you combine it with the monthly promotion, you're earning even more free product!
*Disclaimer:  The information on this website is based upon my research and personal use of Young Living Essential Oils. I am not a doctor. Statements, products, and techniques mentioned have not been evaluated by the FDA and are not intended to diagnose, treat, cure or prevent any disease.  Read the full disclaimer here.