This month has some fantastic and VALUABLE freebies!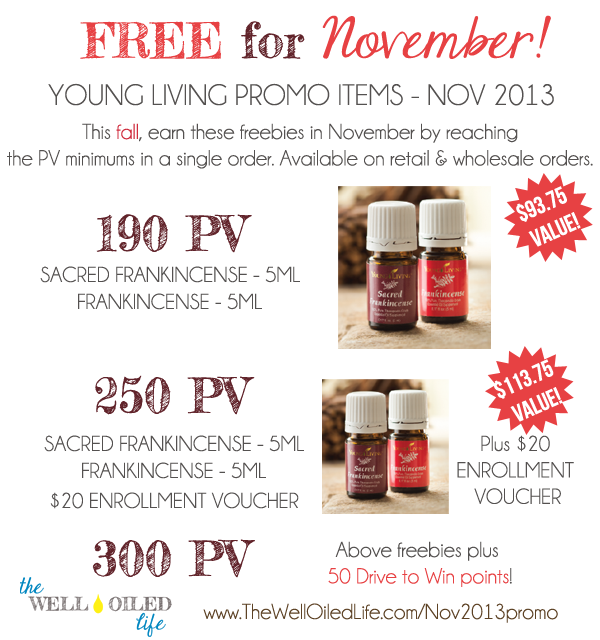 These offers are available to both Retail and Wholesale customers who place a single order worth at least 190 PV, 250PV, or 300PV during the month of November.
If you reach 190 PV in an order, you will receive a FREE 5ml bottle of Frankincense and 5ml bottle of Sacred Frankincense. This is a $93.75 value!
Frankincense is one of my favorite oils.  We use it for so many things, and it has been awesome for skin!!
When you place an order of at least 250 PV, you will receive both bottles of Frankincense, plus a $20 enrollment voucher you can give to someone to enroll. This is a $113.75 value!
Use the $20 Enrollment Voucher to invite someone to join Young Living as a distributor and save on their enrollment kit!
When you place an order of at least 300PV, you will receive all of the above PLUS get 50 'Drive to Win' points in YL's current Drive to Win promotion.
Take advantage of these awesome free products this month!
Sign up for a wholesale account to order Young Living products!
*Disclaimer:  The information on this website is based upon my research and personal use of Young Living Essential Oils. I am not a doctor. Statements, products, and techniques mentioned have not been evaluated by the FDA and are not intended to diagnose, treat, cure or prevent any disease.  Read the full disclaimer here.