Wow!  Apparently I was out of a lot, because there were a LOT of bottles in my last Young Living Essential Rewards order!  These are some of our standbys, the ones that we simply cannot run out of!  This order also included lots of freebies, AND I earned about $50 to use on a future order… keep reading…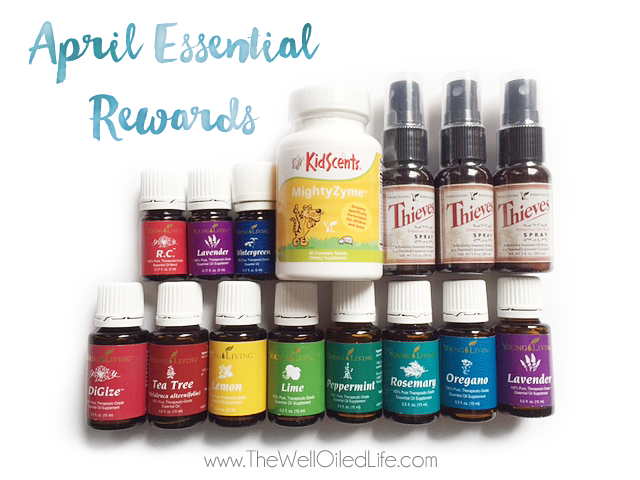 Freebies
Because of April's monthly Young Living promotion, I earned free 5ml bottles of both Lavender and Wintergreen, plus a 3-pack of Thieves Spray!  Lavender is one of our staples (I ordered a big bottle, too!), and I just love Thieves spray.  This spray is great for cleaning surfaces and is a must-have when you are traveling, especially if you will be staying in a hotel room!
Because I order through Young Living's optional Essential Rewards program, I earned about $50 on this order that I can use like cash on a future order as well.
RC
We love RC essential oil blend this time of year for respiratory support.  I usually dilute a drop of RC with several drops of carrier and use it on the kids necks and chests.  They do great in the springtime with this one.  :)
Lavender
We use Lavender essential oil for so many different things!  We spent a bit too much time outside this weekend, and we turned to lavender for its skin-soothing properties.  I also use this on the kids necks and chests in the springtime.
KidScents MightyZyme
Yup, this one is a recurring item in my orders usually!  I give both of my kids one of these after dinner, before bed.  They are digestive enzymes for kids!
DiGize
I dipped into my backup bottle of this, so I had to order a new backup!!  We love DiGize for digestive support.  It tastes and smells horrible in my opinion, but it sure does perform!
Tea Tree
(Also known as Melaleuca Alternifolia!)  I am getting low on this one!  We use it for immune support and healthy skin.
Lemon
Well you can't run out of Lemon!  Honestly I use this one as much to clean and diffuse because it smells good, as I do for immune support!  Lemon is such a great multipurpose, inexpensive oil.
Lime
This one is totally NEW for me!  Can you believe I've never had Lime?!  It wasn't even part of my Aroma Complete kit!  I've had my eye on some diffuser blends using Lime… I've already been diffusing it (with lavender and tangerine), so good.  :)
Peppermint
Oh yes, you canNOT run out of Peppermint either!  We use it for occasional tension in the neck and head, on tummies for occasional gas, and to assist proper respiratory function.
Rosemary
I occasionally use Rosemary essential oil in the diffusers along with Thieves at night, as Rosemary is already a component of Thieves essential oil blend.
Oregano
Oregano contains immune-enhancing properties, so I use this in place of ImmuPower sometimes, when I want to switch up the oils a bit!
Yes, that is quite a lineup, and now I need to go organize these with the rest of my backups.  :)
*Disclaimer:  The information on this website is based upon my research and personal use of Young Living Essential Oils. I am not a doctor. Statements, products, and techniques mentioned have not been evaluated by the FDA and are not intended to diagnose, treat, cure or prevent any disease.  Read the full disclaimer here.