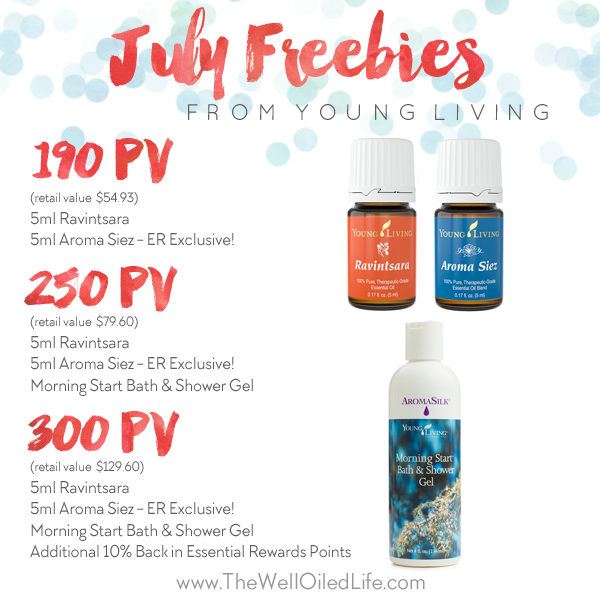 Wow, is it really July already?!  Yes!!  It is!  In case you don't know, every month Young Living releases a new monthly promotion.  These promotions are open to both RETAIL and WHOLESALE customers who reach the minimum PV levels in a single order.  When you reach these levels, you earn the free products listed!  Here is the rundown for the July 2015 Young Living Promotion…
300 PV Reward
Retail Value: $129.60
5-ml bottle Ravintsara
Morning Start Bath & Shower Gel
Additional 10% back in Essential Rewards points
Bonus 5-ml bottle of Aroma Siez on Essential Rewards orders
250 PV Reward
Retail Value: over $79.60
5-ml bottle Ravintsara
Morning Start Bath & Shower Gel
Bonus 5-ml bottle of Aroma Siez on Essential Rewards orders
190 PV Reward
Retail Value: $54.93
5-ml bottle Ravintsara
Bonus 5-ml bottle of Aroma Siez on Essential Rewards orders
Ravintsara
Commonly used in meditation, Ravintsara has a pleasant, clean scent.  It is one of the main oils in Young Living's Raven essential oil blend.
Aroma Siez
Aroma Siez is a Young Living blend containing basil, marjoram, lavender, peppermint, and cypress.  It is a relaxing blend that is excellent for massaging away life's little discomforts. Well suited for use after exercise or at the end of a trying day, it also provides soothing comfort for the head, neck, and tired feet.
Morning Start Bath & Shower Gel
Morning Start Bath & Shower Gel contains moisturizing botanicals and an invigorating blend of essential oils, including lemongrass, rosemary, juniper, and peppermint.
Extra 10% Back in Essential Rewards Points
On orders totaling 300PV and above, you will earn an EXTRA 10% back in Essential Rewards points.  To earn these points, you must be enrolled in Young Living's Essential Rewards program.  These points can be redeemed like cash on future (regular) orders!
Happy shopping this month!!  :)
*Disclaimer:  The information on this website is based upon my research and personal use of Young Living Essential Oils. I am not a doctor. Statements, products, and techniques mentioned have not been evaluated by the FDA and are not intended to diagnose, treat, cure or prevent any disease.  Read the full disclaimer here.